How to Choose a Paint Color for Your Kitchen
When looking at rooms in your house, your kitchen and bathroom are your most prominent rooms and/or the largest selling points of your house.  Knowing that, you probably want to spend more time contemplating what color you paint them.  Working on your kitchen, you probably recognize that there are lots of elements you should consider in order to create a seamless look with the rest of your house.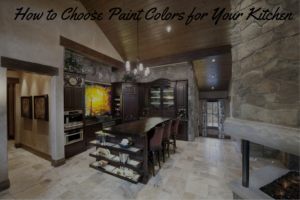 Pick Features You Like
Find things that inspire you from colors to certain pieces or elements you liked on a tropical vacation for example.  If you're concerned about the flow of the house, try to tie in elements or similar tones found throughout the rest of the house.
Ask Yourself What You Want to Feel
When you walk into your kitchen, do you want to feel energized, relaxed or a mix of both?  Figuring out the atmosphere you would like to achieve will help you determine your color palette.  Choose warm colors like red, yellow, oranges to create an energizing vibe in the room.  If you're looking for a more relaxing room, choose more cool colors such as neutrals and grays.
Consider Cabinets
Cabinets are often the first thing you see when you walk into a kitchen.  If you really want them to pop and become a sharp focal point in your kitchen, choose a color that will contrast well with your walls.  The best thing you can do is get sample colors and paint the corners of your cabinets and let it sit for a few days to see if you can live with it.  If your cabinets need an update, a classic option is to paint them a shade of white.  Painting them white creates a relaxing feel that complements just about anything, but choosing dark brown or black can lend itself to a more country or elegant feel.  If they are in decent shape and you like the look of natural wood, you may consider a new stain or clear coat.
Examine Light
Natural light changes throughout the day and depending on the direction your room is facing the sun, the room can look very different every hour.  Artificial light can create a different feel when paired with a paint color depending on the type of bulb you have.  Incandescent lights make your warmer colors more vivid and fluorescents make blues and greens sharper.  If the room is painted in a black hue, remember that blacks absorb all colors.  If you think you may want to paint your room white, remember that white absorbs hardly any.  Lastly, blues absorb red light.  Every paint color looks different depending on the amount of natural or artificial light.  
Use Color to Differentiate Spaces
If you have a small breakfast nook or dining area that shares the space with your kitchen and you would like to create a feel of a separate zone, use a color within the palette of the room (e.g. if you are using browns, consider using a cream or gray to separate your space).  Conversely, you can choose a color completely opposite of the rest of the room and really make that space stand out.  If you want to accomplish this while still making that zone look like it belongs to the rest of the room, consider adding colors that match the room and implementing them in furniture and décor in that separate space.
Test Drive Colors Before You Commit
This is not marriage advice!  I am strictly referring to testing paint samples, people.  Buying samples is always a popular route to go.  If you want to save yourself the confusion of conflicting colors on your wall, Expert Color Consultant, Paulette Diamond advises using canvas boards you would find at any art store, painting each individual board in one of the colors you are considering and looking at them one at a time.  By doing this, you can look at one sample at a time, move them around and leave your walls intact.  And always remember that paint is easily swapped out if you decide you are not happy with it!
If you are in the Breckenridge area and need additional help selecting colors or with any painting project, please lean on us to help!  We love helping with colors!  Call us any time at 970 418-5368 cell or 970-547-9778 office.