How to Enjoy the Fall in Summit County
Fall in Summit county offers something to do for everyone. If you want to be in the great outdoors for every conceivable sport, shop at local farmer's markets, attend free festivals, hike the most beautiful trails in the West then those are just some of the ways to enjoy Summit County in the Fall.
Summit County, rightly nicknamed 'Colorado's Playground', offers mountains of pleasure for the outdoor enthusiast this time of the year.  In fact, all year round!  Located among the towering peaks of the Colorado Rockies and immediately west of the Continental Divide, Summit County elevations range from just under 8,000 feet at Green Mountain Reservoir to more than 14,000 feet at Gray's Peak.  The dry, high alpine climate ushers in long, snowy winters that welcome world-class ski resorts and idyllic warm summers perfect for biking, hiking, backpacking, camping, fishing, kayaking and other forms of outdoor recreation.  Communities within Summit County include Blue River, Breckenridge aka 'Breck', Dillon, Frisco, Silverthorne, Copper Mountain, Heeney and Keystone… and each community with its own unique characteristics offers something for anyone and everyone.
There is so much to do, so much diversity and so many choices available that pages and pages could be written… literally.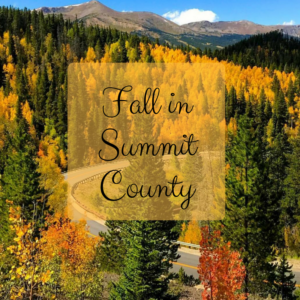 From the Air
Watch hang gliders drop off Blue Ridge at Green Mountain Reservoir, or watch them take off from William's Fork or, better yet, invite your friends to watch you enjoying the thrill for yourself.  There's one view of spectacular Summit County that you can't get from anywhere else except a hot-air balloon ride.  You can ride Keystone's River Run Gondola up nearly 12,000 feet for incomparable panoramic views of Breckenridge, Lake Dillon and the surrounding mountains.
Look Up
Study the family of Osprey who inhabit the area at Lake Dillon or watch the hawks rest on the thermal winds near the Old Reservoir or search for bald eagles.
Play on the Water
Before the big freezes come, you still have time to put your kayak down the Blue River or get some time paddle boating at Keystone's lake.  Lake Dillion and Green Mountain Reservoir rental services include catamarans, canoes, kayaks, pontoon boats and other power boats.  Kayak Park, in Breckenridge is the state's longest with 15 water features that challenge all levels of boaters.  Put a couple of extra layers on and enjoy the water while you still can.
Fishing
What's your pleasure? Is it fishing? Summit has tons of places to fish and the fish population is unique and abundant. Choices include the Blue and Snake rivers, Ten Mile Creek or you can head over to Green Mountain reservoir. Only two places in the lower 48 have Arctic Char and Lake Dillon is one. Local waters also include Kokanee salmon, rainbow and brown trout. If you'd prefer a guide, there are many local companies available.
Climbing and Hiking
Fall may be the perfect time to climb in Summit County. The heat has withdrawn and the Fall foliage has arrived.  Soak in the incredible views from a wide range of hiking options – from stroll-like to strenuous.  Off Montezuma Road just past Keystone, you'll find a variety of climbs. The sport climbs vary in difficulty giving climbers of all abilities an opportunity to enjoy a fall afternoon on the wall. For hikers, area trails include Eaglesmere Lake and nearby Cataract Falls.  In the lower section of Chihuahua Gulch, you can catch a glimpse of the spectacular color-changing Aspens.  Aspens in the lower section of the trail, Elliot Ridge Trail with its panoramic views of the Ptarmigan Wilderness area.  There's also Upper Piney Trail, Pitkin Lake Trail, Deluge Lake Trail, Booth Falls Trail, East Lake Trail. Fall landscapes with stunning mountain backdrops make any hike more than worth it.
Biking
Do you know what Biking in the Fall in Summit County means? It means cool temperatures for those long, steep climbs and majestic views from start to finish.  Try the Breck to Copper run. Follow the path for fabulous views of Dillon Reservoir, the Ten-Mile Range, and surrounding peaks. Bicycling, whether mountain, road, mountain or cruising varieties are a huge attraction in the area and the League of American Bicyclists designated Breck as a Gold Level bike-friendly community.
Museums and Historical Sites
Frisco's Historic Park consists of buildings from Summit County's past, along with a small museum. The Breckenridge Sawmill Museum is a hands-on exhibit that explains the saw-milling and mining history of Breckenridge.  The Mountain Top Children's Museum engrosses children 10 years and younger with a variety of interactive exhibits and programs to encourage learning.  The Red, White & Blue Fire Museum celebrates the history of the Breckenridge Fire Department and hosted by today's firefighters. Visitors can see the original 1880 company's human-powered ladder cart, a restored hose cart and other equipment and uniforms. The Breckenridge Welcome Center is an interpretive museum boasting displays on life in the 1880s and you can visit the Old Dillon Schoolhouse which is now a museum in Dillon.
Entertainment
The Riverwalk Center is the center of entertainment in Breckenridge. Resident companies include the National Repertory Orchestra and the Breckenridge Music Festival and they offer an attractive line-up of film screenings, theater performances and concerts every year.
Tours
Breckenridge has one of the largest historic districts in all of Colorado including more than 200 structures on the National Register of Historic Places.  Frisco has eight historic attractions you can easily walk to from downtown. Search out old mines on your own, or go on a mine tour at Tiger Run or Country Boy Mines where you can walk 1,000ft underground in a 100 year old mine to view original mining equipment.  There's abundant mining history throughout Summit county. Take a walking tour of Breckenridge or go it alone and ride the trolley. Washington Mine Tour and Gold Panning offers a 90-minute tour covering the above-ground workings of the mine and mine shaft.  The Barney Ford Victorian Home Tour is free and details the story of an escaped slave who became a prominent entrepreneur and civil rights leader.
Fall Foliage
The hillsides around Copper Mountain and the rest of Summit County offer some of the best leaf-peeping in Colorado.   Close to Frisco, the Meadow Creek/Lily Pad Lake trail wends through dense aspen groves before reaching the darker greens of the montane evergreen zone. Some of the aspens along the lower part of the trail are among the oldest and biggest in the area. For an easy walk with spectacular colors and views of Summit County, head over to Dillon.  Make your way to the Oro Grande Road, which parallels Highway 6 leading to Keystone.  The Ptarmigan Trail, in Silverthorne, provides panoramic views over Dillon Reservoir and the Dillon Dam and leads to a real aspen forest, where you'll be surrounded by pristine color.
Something Different
For something different stop into Frisco's VIVE Float Studio where you can passively "rest in the restorative and curative powers of float therapy."  Float therapy has gained a lot of popularity among elite athletes for healing and restoration.
There's always a reason to find yourself in Summit County because outdoor fun is limitless but Summit County also offers incredible cultural and educational appeal as well. Everything about the alpine mountains points to high-altitude fun in every season.
Sources: via, via, via, via, via, via, via, via, via, via, via, via, via