Siding is quite an investment so it's understandable that you would like to try to salvage it if you can. Or if you are trying to find reasons to avoid a DIY project, we can help with that too!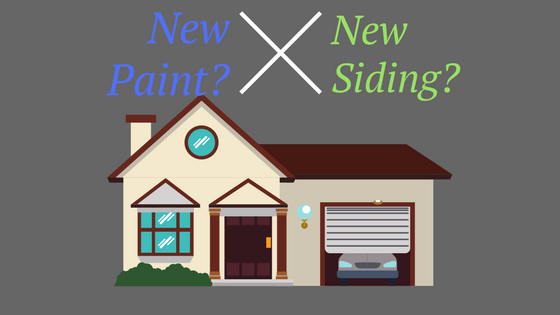 If you have these problems, you will need new siding:
Wood Rot
If you have wood rot, a new paint coat of paint is like putting a band-aid over a gushing artery. It will only slow the bleeding. You're likely allowing moisture into your home and removing an important layer of insulation. So your siding is simply a veneer.
Interior Paint is Peeling
If you're seeing moisture inside, please don't look at your siding. It's possible it's compromised and allowing moisture inside. There's no quick fix for this. You may just be able to fix the affected area, but more than likely, you'll need to replace all of it.
Bubbling and/or Blistering
There is no getting around replacing the siding on this one! Bubbling or blistering indicates an excess amount of moisture or heat.
Loose or Cracked Siding
Loose or cracked siding could mean poor installation or weather damage. Either way, the siding is likely allowing water and wind damage to the underlayment. So don't delay! You should call a professional to determine if you need all of your siding replaced or just the general vicinity.
Hail Damage
If you have noticeable denting from hail, it may be something you can live with. Significant hail damage though and siding may be compromised enough to no longer protect your home from the elements.
Maintenance Nightmare
This one is probably more obvious, but consider replacing high-maintenance siding with a lesser-maintenance option: vinyl. You can select from a wide array of colors and upkeep is simply a regular hose down.
If you have these problems, you can paint existing siding:
Outdated Color
Outdated color could indicate that is been too long since your siding has been maintained or simply poor taste. Just kidding, but consider how long it's been since you've looked at your siding because worn color could mean worn out siding.
Faded Color
Just with outdated color, consider whether it's just the paint that is worn out or the siding, too. Siding is built to last a long time so more than likely a new coat of paint will be enough.
Siding is responsible for more than just how your house looks. It protects your home from the elements and adds an extra barrier of protection. If you notice your homes electric bills are skyrocketing, siding may aid you in lowering them. Another reason to consider a total replacement would be to give the house a facelift and potentially increase your resale value.
Call us if you are near Breckenridge, Frisco, Keystone, Vail or just about anywhere nearby.  We can be reached at 970 418-5368 cell or 970-547-9778 office. We can save you a lot of time and headache with siding repaint or replacement.
Sources: Bob Vila and Angie's List