Don't Neglect These Spring Home Improvement Projects
With recent snow here in Breckenridge and the threat of more coming, Spring may seem like a pipe dream.  As we approach it, not only will snow melt and mud appear EVERYWHERE, but rain and wind will come.  If you are not careful, this can wreak havoc on your home's siding, roof, deck, windows, and more (assuming Winter has not done so already).  Here's what to do to mitigate damage and prevent new problems from interrupting your summer.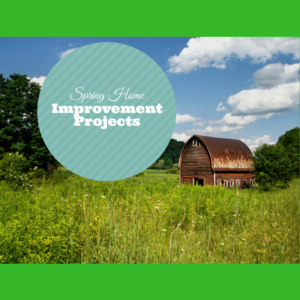 Repair Roof Shingles
Assuming all the snow has melted from your Colorado roof and it is not lightning and thundering outside, you can properly assess the damage.  Using a pry bar or crow bar, remove old or loose shingles.  Read here for step-by-step instructions.  Be sure to buy a quality shingle cement or adhesive and good roofing nails for the job!
Check Seals around Windows
Old homes especially have an issue with moisture around windows.  Most New Construction homes use double pane windows that are fairly-well insulated on their own.  Whichever your circumstance, check for warped wood or mold and moisture in between panes.  This will likely indicate the need for new windows and/or trim. If you escaped with minimal damage to your windows, do yourself a favor and replace weather stripping or old caulking.  You only have to do this every few years and it only takes a few minutes!
Decks and Patios
Now that the weather is warming up, ensure your outdoor spaces are ready for action again.  Look for loose or warped boards on your deck or patio.  Also, look at the seal or stain.  Is it chipped, faded or cracked?  Now is the perfect time to re-seal it!  For a tutorial on how to properly clean and re-seal your deck, read here.
These are typically some of the more-neglected Spring Home Improvement projects because if left alone too long, the repair work needed becomes intimidating.  If you are at all intimidated or just too tied up to do the work yourself, we are here to help!  We have a crew ready to travel anywhere from Breckenridge, to Keystone, to Vail, to Evergreen and beyond.  Call us now at 970 418-5368 cell or 970-547-9778 office.
Save