How to Update a Bathroom Vanity with Chalk Paint
Chalk paint is becoming quite trendy as of late.  Perhaps it is its ability to adhere to just about anything or its distinct matte finish.  It can also lend a "distressed" or "vintage" look to your pieces of furniture with minimal effort.  Just take a sanding sponge to edges where paint would normally wear off and you have an instant antique!  Another selling point is that you can skip some of the prep work (sanding and priming) and because of its thick consistency, it usually covers in one coat.  It does however require an extra step once applied – waxing.  And if you are not up for all elbow grease of waxing every few months chalk paint will require, you can opt for a water-based polyurethane finish (aka polycrylics).  The waxing will create a velvety sheen whereas the polyurethane will leave it looking a little shinier.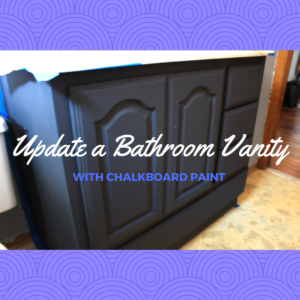 How to Use Chalk Paint
Depending on how involved you want to be in this project, you can go as far as making your own wax paint.  Details on another do-it-yourself project here, or you can save time and buy it here.  I admit I haven't explored all the brands out there, but I know Anne Sloan was the one to create chalk paint and it typically ranks high in customer reviews.  The only downside is that is cost $35 a quart.  If you factor in that you don't have to buy primer and that usually one coat is enough, it's easier to swallow.  Now it is pretty thick so you can dip (just barely dip!) your brush in water and into the paint to thin it out a little.  Keep in mind though that this may force you to apply a second coat!
Before you apply any paint, be sure your cabinet or vanity is free of any debris, grime or dust. I like to use a microfiber tack cloth on just about everything before I start a paint project.  2.
If there are any big dings in the cabinet, fill with a little wood filler and sand so it's flush with the rest of the cabinet before painting. Also remove any hardware you don't want covered!
In a well-ventilated room or outside, select a brush about two inches wide and apply your first (and maybe last coat). Make sure you tape off areas you're worried you might spill paint on and parts of the furniture you do not want painted.
Allow ample drying time (about two hours) before applying a second coat. If you determine it does not need a second coat, then this is where you decide if you're going to put a wax finish on it and buff or polycrylic finish and sand.
Buff or sand for the last time. Replace hardware and you're done!
To Wax or Not to Wax?
Painted Vintage had some good advice about what kind of wax to use if you are not daunted by the extra work. The author suggests Minwax Paste Finishing Wax because it is easy to find and work with.  It also results in a nice finish. If you need to use a darker wax, he suggests using Annie Sloan Soft Wax.  Downside is that once you commit to waxing, it's pretty hard to get out of it.  Meaning you can't just put a coat of polycrylic over wax since it's water-based and wax repels water.
If you choose to go the equally-respectable clear sealer route, there are lot of choices available.  I've recommended it before and I'll recommend it again: Minwax Wipe-On Poly is great for a project of this size.  If you have a huge vanity or are painting a bunch of cabinets, then buy the kind you can brush on.  Be sure to apply the brush on Poly using long even stroke taking care not to go back and forth.  When you go back and forth with the brush, you can gunk it up and leave the finish looking lackluster.  The downside to polyurethane finishes is that you need to (should!) apply two coats and you must allow the first coat to dry for a few hours, sand, and then repeat.
If you find yourself interested in a final product like this but do not want to break out the brushes yourself, we are here to help!  We have a dedicated crew ready to travel anywhere from Breckenridge, to Keystone, to Vail, to Evergreen and beyond.  Call us now at 970 418-5368 cell or 970-547-9778 office.