Easy Winter Projects to Brighten Your Mood
It seems these winter months just drag on, but don't let them!  If you are tired of sitting around waiting for the sun to come out, I've got some ideas for you.  Home projects will not only give you something productive to do, but they can and WILL lift your mood.  If you're like most people, you may get frustrated during your project.  Take heart though because once you have seen your "new home," you will be elated!  Some of these projects will even save you money and what's a better mood maker than that?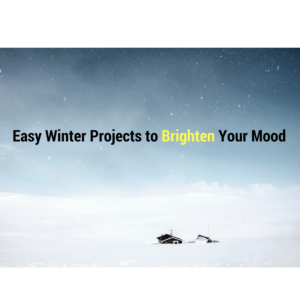 Here Are 7 Easy Winter Projects to Brighten Your Mood:
Repaint
You had to see that one coming!  It's not just a shameless sales pitch to get you thinking about hiring us for paint.  Whether you do it yourself or hire someone, a nice new paint job will make your surroundings fresh again.
New Lighting
For less than $100 you can buy a new light fixture and change the whole atmosphere of your kitchen, dining room, you get the gist.
Patch Holes in the Wall
Holes in the wall are not only unsightly, but they are also inefficient.  Saving a few more dollars every month on heating will probably not have too much of an effect on your mood, but making your home look more complete in less than a few hours will! With a little putty knife and drywall compound, you can fix almost any imperfection.  For larger holes, you can apply a drywall patch and follow up with compound.
New Kitchen Backsplash
With the new innovations in tile, mortar and grout, installing a new backsplash has never been easier.  Mortar and grout dries faster these days and backsplashes come interconnected most of the time so it's almost impossible to screw it up!
Swap Out Interior Doors
It is common in new construction for homes to have hollow interior doors.  Do yourself and your houseguests a favor by opting for a solid-core door to cut down on noise throughout your home.  It's also a great opportunity to upgrade your style.  Assuming you measured correctly, the whole project should take less than an hour!
Upgrade Flooring
With all the snow we track into our homes, you may pay more attention to your floors.  Why not finally pull the trigger and replace them?  Laminate and manufactured hardwood floors are an affordable way to have your whole home looking stylish.  There are so many alternatives to the expensive tiles and hardwoods ten years ago so now is the perfect time to polish up your home and increase its resale value.  Not to mention, new floors will probably put a smile on your face.
Replace Hardware on Interior Doors or Kitchen Cabinets
It's a frustrating truth in life that things go out of style quickly.  Especially with rapidly changing home trends.  A lot of older kitchen cabinets and interior doors have gold or brass fixtures.  Switching to polished chrome and aged bronze will create a more timeless look and more importantly – an affordable one!  For around $200, you can have your kitchen cabinets or interior doors looking more this decade.  This is a great update on interior doors, too.  Take it up a notch and replace door hinges, too.  And if you are an expert DIYer, read about how to spray paint your handles to save even more money!
If you live in Breckenridge or nearby Summit County, give us a call at 970 418-5368 cell or 970-547-9778 office for assistance with just about any home improvement/painting project.
Sources:
http://www.moneycrashers.com/home-improvement-projects-upgrades-winter/