Expected Paint Color Trends of 2018
With every new year, there are new trends! The year of 2018 is going to be the time for bold, yet minimal paint choices for the home. These paint color trends are pulled from all parts of daily life to predict the up and coming colors for this upcoming year.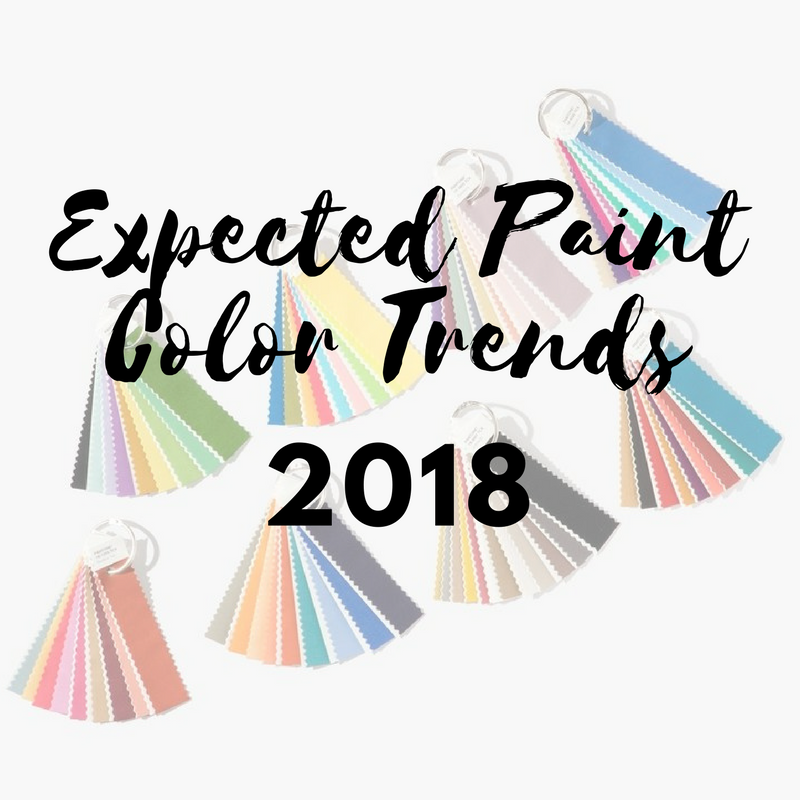 Themes
Minimalist
Minimalism is going to be taking 2018 by storm. This is where you have only what is needed and nothing more. You do not have to go as extreme with being fully minimalist but it is something to consider when painting a room in your home. Creating a room with a minimalist feel that will create a space to relax and recharge.
Whether you want to have one, two, or three colors the key is to make sure everything blends. You want to stay away from super bright or dark colors and opt for a organic neutral/muted color.
Connectivity
This is when you create a space where you can be inspired and innovative. Colors that fall under this category would be modern yet playful. Colors can include an exuberant orange, blue, green, or yellow.
Classic
This is the crisp, clean colors and lines that everyone is used too but with a twist. The classic theme is marked by a dark hued color with a crisp white to brighten up baseboards, furniture, doors, or whatever else you want to paint. Allow the dark hue to draw the attention to the room.
Statements
Accent walls and furniture a making a comeback. High gloss furniture pieces and matte walls are just a few examples of what to come in 2018.
Color Palettes
2018 is a year of possibilities.  Here are the color palettes that will be bringing in the new year.  The three bright color palettes are designated by the terms: Affinity, Connectivity, and Sincerity.
Affinity
Blue, fuchsia, and brown.  These are warm and cool tones will bring out the life of your room.
Connectivity
Blue, green, and yellow.  These strong colors bring out a sense of power and strength.
Sincerity
Neutrals, green, and pink.  Warm earthy hues and rosy pinks are the way to go!  Especially if you don't have a bold preference.
Dying Paint Trends
 All "good" things must come to an end.  That goes for paint color trends.  I have to admit, I'm not especially sad about seeing some of these colors disappear.  Here are trends that will be dying out.
Hues of purple. The once popular color (especially in the 80's) is now one of the trends that are no longer sought after. Aim for colors close to a plum, wine, or amethyst if you decide you absolutely must have purple.
Say goodbye to any royal colors. Different shades of golds and Tuscan colors are out for 2018!
Words for Inspiration
If you are having trouble finding colors that you can relate to above, try picking a word which describes the goal for your home.  You can then find color scheme associated with each one.  Those words are: Resourceful, Verdure, Playful, Discretion, Far-fetched, Intricacy, Intensity, and Technique. These strong words that have their own artistic meaning. Pick which word you want to portray your home the next time you decide to paint.
If you want a keen eye or a skilled painter, you know where to find us!  Call us any time of day and get a free estimate.
Sources:
http://www.housebeautiful.com/room-decorating/colors/news/a9058/2018-color-of-the-year-predictions/
http://www.hgtv.com/design/decorating/color/color-trends-whats-new-whats-next
http://www.elledecor.com/design-decorate/color/a10011137/color-trends-2018/ http://www.elledecor.com/design-decorate/color/a9178549/pantone-colors-2018/