The Perfect Paint Combinations for Your Home's Exterior
There are a few things that you will want to consider when picking the perfect paint combination for your home. First: your home's architecture and second: age of your home.  The color scheme of the home not only needs to be based off the style of the home, but it also needs to take into consideration its surroundings.  A beach house versus a cottage-style home are going to look better in certain colors.
Is the area around your home forested?  Desert-like?  Mountainous?  Consider colors naturally found in nature to better blend in.  While we are on the subject of surroundings, take a look at your neighbors' homes.  Are you in an HOA?  Not that you want your home to look like everyone else's, but you do want to be mindful of what colors are approved.  Consider these qualities before painting to ensure the appropriate color scheme for the style of your home.
Most Inviting Color Schemes
Borrowed from HGTV, these color schemes are ones we've painted on a lot of Breckenridge homes.  That's because they are sleek and modern.  You don't need to completely remodel your home to make it look warm and inviting.  Try one of these color schemes instead!
Classic Style Home: Aqua, white, and ivory
Country Style Home: mustard yellow, brown, and honeysuckle white
Beach Style Home: Aqua, royal purple, and crisp white
Modern Style Home: Slate gray, deep turquoise, and white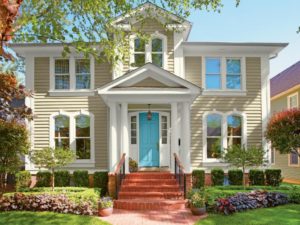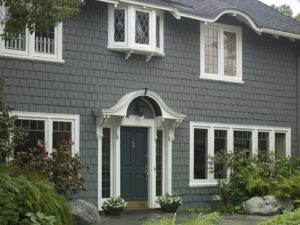 For more color schemes and ideas, look here.
Picking a Color Type
The above color schemes could not appeal to you and that's okay!  You can simply choose your own colors and do so successfully with a little visualization. This means you will look at surroundings, other nearby homes, and the position of your home. Once you have a selection in mind that will match all the other factors, decide between a neutral color, bold color, or contrasting colors.
Sticking with the Classics
You can never go wrong with neutral. Not only is it pleasing for the eyes but it's usually a cheaper option. With this you want to plan around the elements that are hardest to change such as the roofing, trim, and other stone work.  A "Greige" (gray + beige) home exterior is a very popular color that is the perfect neutral with just enough color to not be boring.
A Pop of Color
Painting the entire house can be a daunting project and maybe even an unnecessary one!  Instead of redoing the whole exterior, opt to add just a pop of color to a smaller surface.
The Front Door
Often the first thing a buyer or visitor notices about a home.  You may not think of it like this, but it is the entrance to a home and a passage from one world to another.  With the right color, it can really stand out.  Try red, blue, yellow or even orange for a bolder look!  If you want, you can pair your front door with your garage door or update your garage door with a color of its own!
Are you not daring enough to try an eye-popping color? Try picking two hues of the same color. It will still be bold enough to give the home dimension and give it an eye-catching look. Another option would be to focus on emphasizing the features of the home such as the trim, woodwork, or other fixtures.
Experimentation
When all else fails, try experimenting!  We can talk at length about what colors are most popular, inviting, sought after, but until you put brush to siding, you won't really know what you'll like.  So paint a few small areas on the house to see for yourself which color(s) look best.  Don't just rely on paint swatches.  Allow the paint to dry and then look at the color in a variety of lights before fully committing.
Of course, call us at 970 418-5368 cell or 970-547-9778 office if we can do the work for you or even offer some advice!
Sources:
http://www.hgtv.com/remodel/outdoors/20-inviting-home-exterior-color-palettes-pictures
https://www.cbsnews.com/media/7-paint-colors-boost-home-price/4/
https://arizonapaintingcompany.com/5-tips-choosing-exterior-paint-palette/
https://www.houzz.com/ideabooks/3317364/list/5-easy-tips-for-choosing-your-exterior-paint-palette